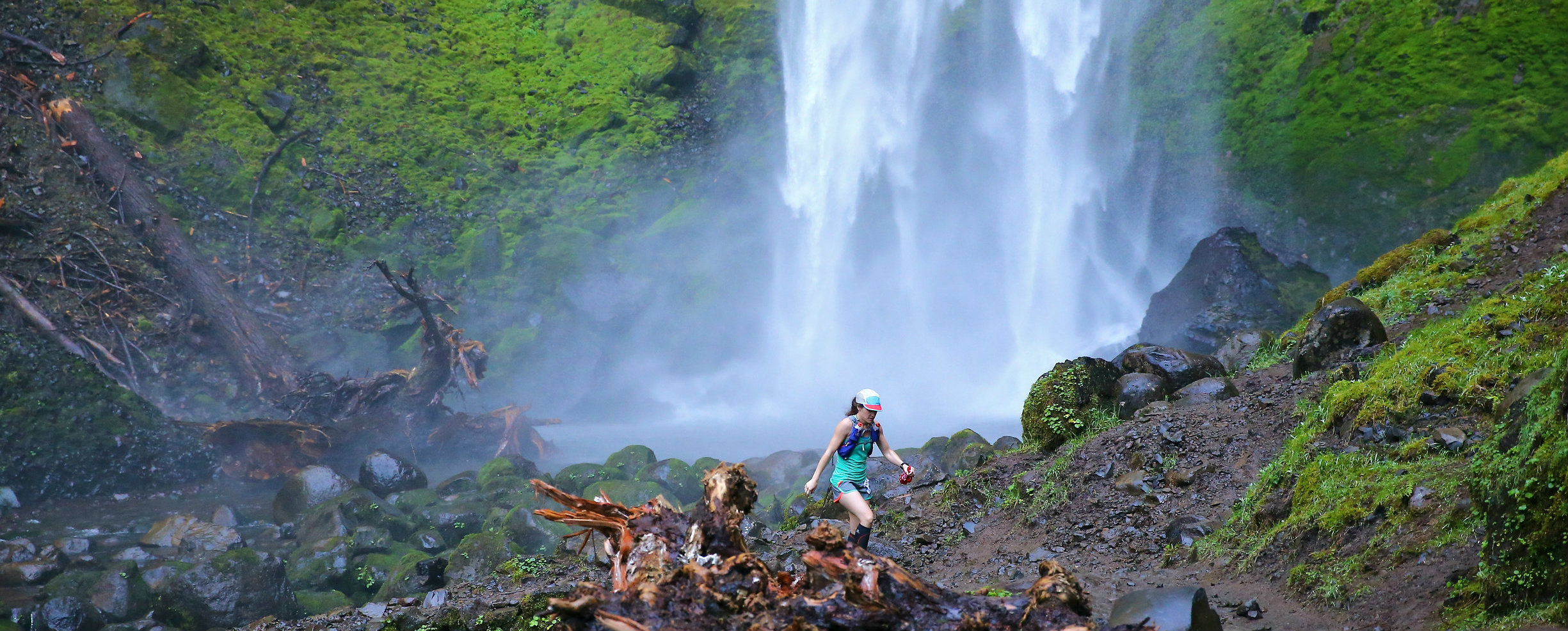 In the sport of ultrarunning, many of the great races take a very deliberate effort to gain entry. There are lotteries, qualifying races, waiting lists, and lightning fast sell-out times. My most recent race, Gorge Waterfalls 100k, is the latter category. This race is sought after for it's stunning course which traverses mossy old growth forests in Oregon's Columbia River Gorge featuring, as the name would suggest, several on-course waterfalls and river crossings. It's also a highly competitive race that qualifies the top two men and women for Western States 100 Mile, arguably the most competitive 100mile American race, drawing an elite group of athletes. Coordinating my ultramarathon schedule takes a lot of forethought and chance, especially when balancing the demands of the farm and my family while accounting for potential injury and illness. Back in October, when I was in a mononucleosis-induced stupor, I had a beautiful fantasy of racing Gorge 100k. I was long overdue for a visit to my brother and his family, who live south of Portland, so I would make a great weekend out of this event. My husband, Jesse, warned me that I needed to sign up the day registration opened if I wanted to race. The excitement of not knowing if I would be healthy yet, made the decision even more intoxicating. I knew it was a gamble but I just wanted to be out there, healthy, trying really hard for the sport that I love.
Following a win in February at Sean O'Brien 50mile, I took a week off before I began training. After a few long runs I started to develop a burning pain in my right Achilles area. Both my chiropractor and physical therapist confirmed that poor pelvic alignment was skewing my running mechanics causing several points of concern on the entire right side of my body, from my neck down to the joint of my big toe. A lack of core strength combined with carrying children on my left hip while cocking my right hip out had perpetuated these imbalances. Training on the country roads around my house also contributed to my misalignment - the road peaks in the middle and drops down into the shoulders so one leg is always reaching farther to strike the ground. I stopped running on the road and only ran trails for the month leading up to Gorge. My training volume was low but I was still feeling hopeful that I was at least maintaining my fitness.
The week before the race our entire house was infected with the flu. I knew there was a strong chance that I wouldn't even toe the starting line if I had a fever. Combined with my injury, running the race sick seemed irresponsible and destined for failure. But something inside was aching with curiosity - what if the race actually worked out for me? And by working out, I had a specific goal in mind. I wanted to finish in the top 10 ten females with a sub-13 hour finishing time. The Gorge elevation profile is slightly less vertical than Sean O'Brien 50mile, mile for mile, and the Gorge 100k competition was far greater than SOB 50mile. Based on my SOB 50mile time in February, and compared to the previous years Gorge 100k times, this should have been feasible if I could hold my mechanics together.
Once I was on the way to the airport I felt determined to start the race. During my travel day from Madison WI to Portland, I checked the weather forecast obsessively, trolled social media channels for nuggets of chatter about the race, and planned out every detail of my life until the race morning. My mom and I previewed a few miles of the course the day before the event and I was buzzing with anticipation to to sink my teeth into the race the next morning.
This was the first ultramarathon I had ever raced that I slept in a bed without at least one of my kids, so I woke up feeling super rested. Predawn race starts have a special electricity - the headlamps, steamy breath, bright colored running gear with light-catching reflectors - it all makes me so belligerent with excitement that I want to jump up and down. I huddled my forearms to my chest and trembled inside as the race director gave his pre-race announcements. Then we were off! The leaders went out fast and I trotted along about a third of the way from the front.
Ultrarunning must seem like the world's most boring sport to outsiders. Running for hours and hours and hours. But there is quite a bit of risk taking and calculation to be made. For me, I decided to be conservative in the first quarter of the race and assess my body before developing my race strategy to meet my goal. I was feeling solid at mile 17 so I began to move a little faster. The course has 12,000 feet of elevation gain in the form of several medium climbs and descents so I knew I needed to keep myself in check in the fast sections if I was going to stay strong for the duration.
The course is an out and back so we ran 31 miles away from the race start and then turned around and ran back. I love out and back courses for strategic reasons. It puts you face to face with everyone on the course which is a great way to know where you stand in the race while scoping out the second half of the course. It is also cool to see the fastest runners in their zone of awesomeness. As I approached the 50k turnaround point, I counted 10 women - which meant my goal of top 10 was possible. I made quick work of the aid station and set back out to start chipping away at my position.
Around mile 34 I felt a familiar pain in my big toe joint and Achilles. I carried on hoping it would loosen up with more running - famous last thoughts before blowing up. In mile 36 I took one step on my left leg and with the subsequent right step, my right groin muscle was gone. It is a painless but uncanny sensation that I have a hard time describing. Over my next few strides I could feel my quad and glute compensate for the muscular void. I thought Ok, I can run like this, I am more than halfway through the course. But as the miles dragged on, other areas of my leg began degrading: a stinging pinch in the back of my pelvis, shards of glass in my knee, inability to roll off of my big toe joint. All of this was causing an obvious change in my gate which I knew was the sign that it was time to throw in the towel to prevent further damage.
For me there is acceptable pain in running like toe nail issues, blisters, chaffing, cramping, scratches, cuts, nausea/vomiting, and general exhaustion. Then there is unproductive stubbornness that hinders future running. It took me about a dozen miles to answer a simple question: what do I want from ultrarunning? I want to be competitive on a high level, I want to race and train in beautiful places, I want to meet amazing people, I want to keep doing this sport that connects me so deeply and wildly to myself and nature, but most of all, I want to do this sport forever. One of my favorite things about running is that it transcends age. I want to be a tenacious old woman finishing 100mile races. I realized that running couldn't be any of these things if I didn't know when I've had enough and I will never get better at running if I am chronically sick and injured.
I called Jesse about 3 miles from the 49mile aid station where I dropped out. I sobbed into the phone, stammering about how terrible this was and I was so sorry I left him at home with the kids for the race that shouldn't have happened in the first place. So what was likely going to happen, did. But now you got inside the 100k distance and you will take this experience into your next race. He was right. I don't regret starting the race because I learned so much about myself and got to meet a lot of cool people on the course. One of the guys I talked with when I was trying to make my decision said, Sadly, you learn more from your bad races than you do from your good ones. My mom and brother picked me up at the aid station and I cried some more. Not only for the abandonment of the race but also because I was completely exhausted by the pain I had been running through. I had a desperate fear of missing out on this race and I am glad for it. My curiosity compelled me to start and my focus on the future told me to stop when there was nothing left to be gained.